Coronavirus crisis: Rutland ready to celebrate Armed Forces Day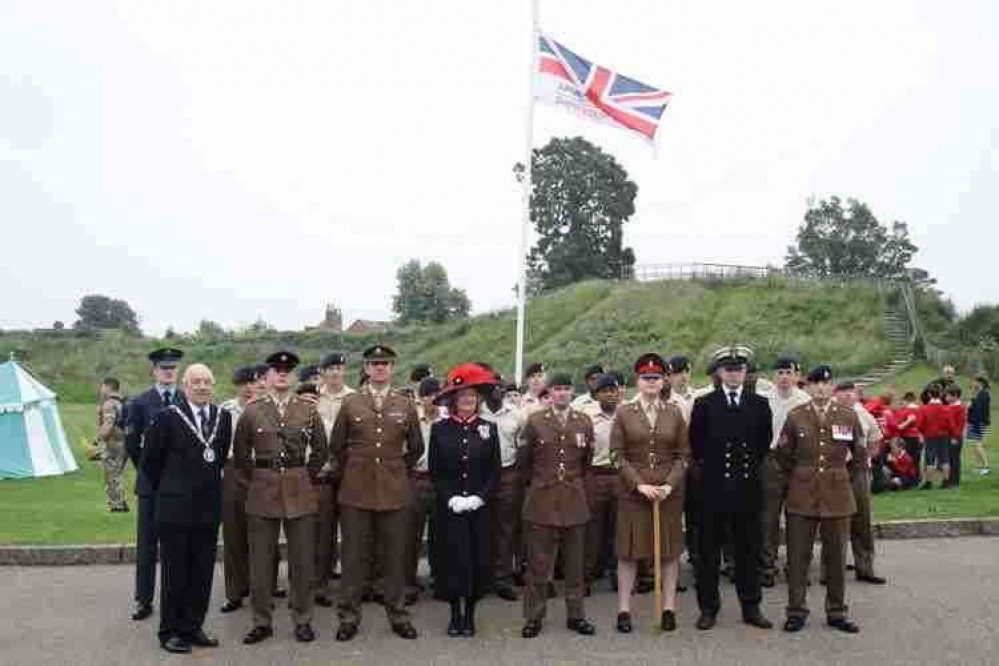 The celebrations last year
Rutland is getting ready to join in a host of online celebrations intended to mark this year's national Armed Forces Day.
Armed Forces Day (AFD) is an annual opportunity for the UK public to celebrate the work of our Armed Forces and thank them for their service.
Saturday 27 June 2020 will mark the twelfth annual AFD and the first to be held virtually, due to the effects of coronavirus.
As many public events have been cancelled due to the COVID-19 outbreak, this year's AFD will be celebrated online through websites and social media channels, with people encouraged to show their support from home.
This year, the week leading up to AFD, which is often referred to as 'Armed Forces Week', will be used to highlight different elements of the military:
Monday 22 June - Global Armed Forces and the start of Armed Forces Week
Tuesday 23 June - Innovation
Wednesday 24 June - Reserves Day
Thursday 25 June - Veterans
Friday 26 June - Cadets
Saturday 27 June – National Armed Forces Day
Rutland is once again giving its full support to Armed Forces Day – celebrating its longstanding ties with both the Royal Air Force and British Army, as well recognising the many veterans, reservists and cadets who live and work in the county.
Normally a public event, Rutland's annual Armed Forces Flag Raising at Oakham Castle has already taken place, in advance of Monday 22 June.
Video footage from the event will be shared online and across Rutland County Council's Twitter and Facebook pages at 10:30am on Monday 22 June – the time that the event would have been held if public gatherings were permitted.
The flag raising was attended by Her Majesty's representative in Rutland, the Lord-Lieutenant, Dr Sarah Furness and representatives from British Army regiments currently stationed in Rutland – 1 Military Working Dog Regiment from St George's Barracks in North Luffenham and 7 Regiment The Royal Logistic Corps from Kendrew Barracks in Cottesmore.
Also in attendance were Richard Cole, High Sheriff of Rutland, and the Lord-Lieutenant's Army Cadet Sergeant Antony Lees.
A special tribute was given by Dr Sarah Furness, Lord-Lieutenant of Rutland, before the Armed Forces Day Flag was raised by Councillor Adam Lowe.
Speaking after the event, Dr Furness said: "Rutland is a military county with two army bases, many veterans and a long military history.
"The military means a great deal to Rutland. This year's Armed Forces Day celebrations are somewhat unique and I am delighted that we can say thank you to our serving military, veterans, reservists and cadets through social media, given that COVID-19 prevents us from holding our traditional celebrations.
"This means we will not be defeated by the pandemic and can still mark the start of Armed Forces Week. I am bitterly disappointed that we cannot have our annual public Flag Raising at Oakham Castle.
"This event has been increasingly spectacular over the years and very well supported by all the military in our area – particularly by our veterans and Army regiments stationed locally.
" Hundreds of people attended last year's event, including many children from local schools. It's sad that we could not repeat these celebrations.
"However, everyone across the community can still say and huge 'thank you' to the Armed Forces by joining in with us online."
Dr Furness added: "We tend to take for granted that the military will keep us safe and defend our country. The COVID-19 pandemic has reminded us that the role of the military is not just to fight.
"The military keep us safe in many different ways. Throughout this pandemic, they have been active in helping to build hospitals, setting up and running mobile testing units and much more.
"We have extra cause to be grateful to our Armed Forces this year and I hope you will all join me in thanking them for everything they do."
As part of Armed Forces Week, Reservists Day will take place on Wednesday 24 June, recognising the contribution reservists make to the Armed Forces. Thursday 25 June will be dedicated to veterans of all ages and from all branches of the military.
Armed Forces Week culminates on Saturday 27 with Armed Forces Day, as Rutland joins national celebrations being hosted on the Scarborough Armed Forces Day website.
To help celebrate Armed Forces Week in Rutland and show support for service personnel, residents and local businesses are being encouraged to decorate homes and workplaces and share images on social media using the hashtag #ArmedForcesWeek. Local businesses are also being asked to consider joining
Rutland's Armed Forces Discount Scheme,
which supports local service personnel by offering a discount on goods and services to them and their families. The Armed Forces community makes up more than 15% of the total population in Rutland, with Reserve Forces accounting for around one sixth of this. Reservists give up their spare time to serve in the Reserve Forces and are ready to support the military should their country require them.
Rutland County Council's Armed Forces Champion, Councillor Ian Razzell, spent 37 years in the Army, during which, he achieved the prestigious appoint of Regimental Sergeant Major before attending Sandhurst and commissioning as an Army Officer.
He said: "Rutland has inseparable ties with the Armed Forces stretching back over many decades. Because of this, and the close proximity of military bases in neighbouring areas, we have a large Armed Forces presence who are part of the fabric of our local communities.
"We owe a great deal of thanks to our Armed Forces and their families, past and present, and have extra reason to thank them this year, given that they have been on the frontline in the fight against COVID-19 (and continue with their world-wide commitments).
"Rutland residents are always supportive of the Armed Forces and I know they will want to show their appreciation as part of this year's slightly different Armed Forces Day celebrations. As a veteran and reservist, I know how just important public support is for morale and what it means to our servicemen and women."
For more information about national Armed Forces Day celebrations, including links to a special Armed Forces Day blog, please visit: www.armedforcesday.org.uk.