Council announce proposed land for Local Plan developments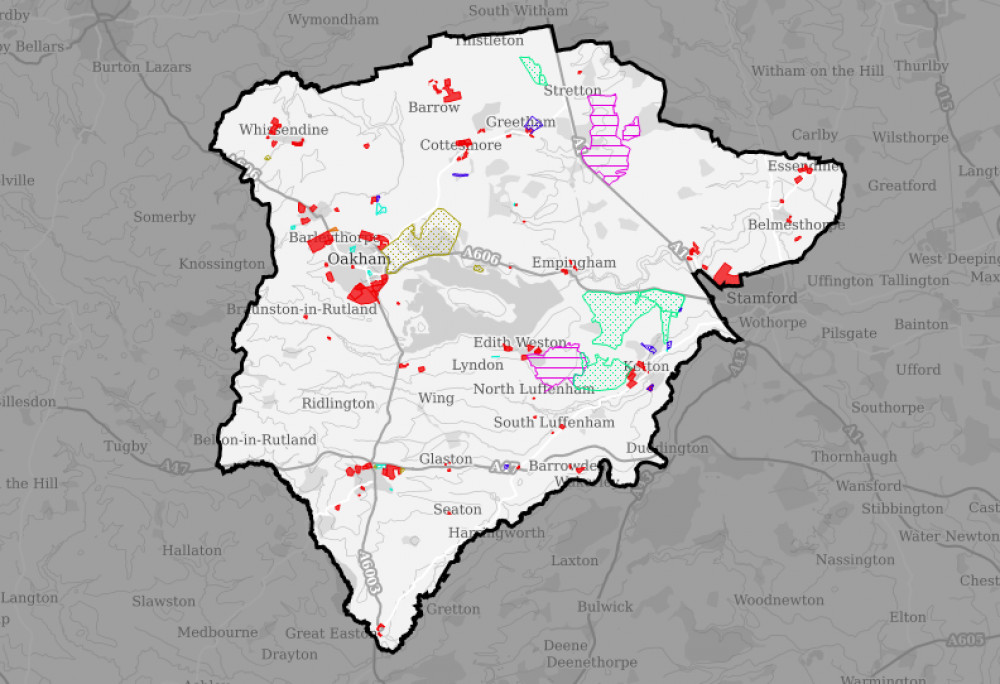 Interactive map of proposed locations (image courtesy of RRC).
Rutland County Council has published details of the submissions it has received from individuals, landowners and developers during its recent 'Call for Sites' – part of the process to develop a new Local Plan for Rutland.
The Call for Sites is an opportunity for people to suggest areas of land which they think may be suitable for future development like housing or space for businesses over the next 20 years.
Rutland's Call for Sites began in February and is one of the earliest stages of developing a new Local Plan. Planning Authorities must know what land is available for possible future development in their area before they can begin to prepare a Draft Local Plan.
At this early stage, confirming that an area of land has been submitted through the Call for Sites process does not mean it will be allocated within the Local Plan or that it will obtain permission for development. All sites put forward by landowners and developers must now be assessed to check if they are suitable and deliverable.
Following careful assessment, the sites that are considered most appropriate to help Rutland meet its future development needs will be subject to public consultation as part of the 'Preferred Options' stage of developing the new Local Plan. This consultation is expected to take place in late 2023.
The schedule for the whole process is as follows:
Call for Sites - Spring 2022
Issues and Options consultation - Summer 2022
Preferred Options Plan and consultation (Regulation 18) - Late 2023
Finalising of the Submission Draft Plan and consultation (Regulation 19) - Spring 2024
Submission to the Secretary of State for Independent Examination - Summer 2024
Main modifications as recommended by the independent planning inspector - Autumn 2025
Adoption and publication of the Local Plan - Winter 2025
Councillor Rosemary Powell, Cabinet Member for Planning at Rutland County Council, said: "Nothing is decided at this early stage of developing Rutland's Local Plan. So far, we have held the Call for Sites and consulted residents on the key issues which need to be addressed through the Plan. Just because a piece of land has been submitted as part of the Call for Sites does not mean it will end up in the final Local Plan. At this stage, we are simply sharing the details of what's been submitted to the Council before we begin the lengthy process of assessing the suitability and viability of each site."
The site suggestions received from individuals, landowners and developers as part of Rutland's Call for Sites can now be viewed on an interactive map, which can be accessed via the Council's website.
Locations include sites in Oakham, Luffenham, Whissendine, Stretton, Greetham and more...
Rutland County Council is also hosting a short online webinar for anyone who would like to know more about the Call for Sites and how it fits into the wider Local Plan process. The webinar will take place from 2.30pm to 3.15pm on Tuesday the 13th of December and can be accessed through the Council's website.
If you would like to ask a question as part of the webinar, it must be submitted in advance by emailing: [email protected] Questions must be received before 4.00pm on Monday the 12th of December 2022.
You can also find out more and register to receive regular email updates about the development of Rutland's new Local Plan online.
Alternatively, view the 12 main focus points of the local plan here.