Oakham 1st XV Rugby team win at Twickenham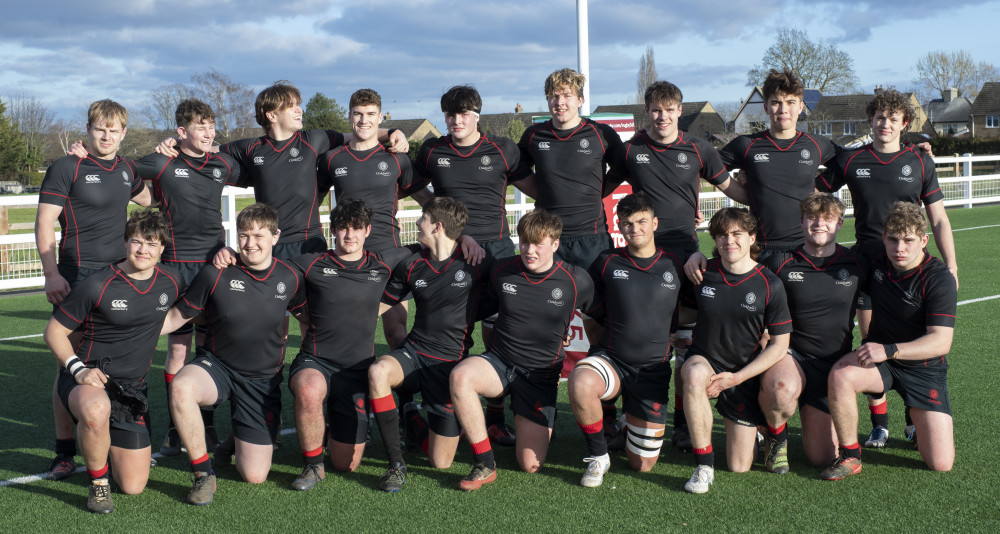 2023 Oakham School Rugby team. Image credit: Oakham School.
Oakham School's 1 XV Rugby players celebrated a victory at Twickenham yesterday, Thursday 16 March.
At 4pm, the whistle blew to mark the beginning of the Schools' Cup Final, which saw Oakham School come up against Trinity School at Twickenham Stadium - the official home of England Rugby.
This came after the unbeaten 1st XV rugby players secured their spot in the Schools' Cup Final by beating Finborough School in the Semi-Final.
The boys managed to maintain their perfect season record and took the win, the final score coming in at 31 - 24.
On the team for this high-pressure cup final was:
Forwards
15 - Bland
14 - Powell
13 - Cousin
12 - Martin
11 - Powell
10 - Taylor - CC
9 - Hopkinson
Backs
1 - Marsh
2 - Houston
3 - Reynolds
4 - Starkey - CC
5 - Pinder
6 -Timmermans
7 - McEuen
8 - Hoyles
The first try for Oakham was scored by Reynolds, the result of a team rush over the try line. The following conversation was scored by Taylor.
Their second try was scored 34 minutes into the first 35 minute half, by Timmermans, following a swift and tidy line-out from Oakham. Still, Trinity lead 19 - 10 at half time.
In the second half, Reynolds scored again, backed by the forward power of Oakham. The conversion was missed once again, following some incredibly tricky kicks from out in the 'trams'. This took the score to 15 - 19 to Trinity.
Stealing a Trinity line-out, Oakham also stole another try, scored by Powell, once again creating a difficult kick angle for Taylor.
Pinder scored Oakham's next try after a huge push from Oakham, who were held up once but retained possession.
At nearly 65 minutes, Oakham's Taylor scored a penalty kick, taking their score from 25 to 28 over Trinity's 19.
Oakham's final points were added to the board by Taylor, who scored another kick under pressure, with only 2 minutes remaining.
This was not the final score of the game though, as Trinity scored another try with only 1 minute and 10 seconds remaining. Without the conversion though, Oakham took the win.
This defeat was made even sweeter for the Oakham School team by the fact that Trinity were last year's victors.
Oakham School has a rich history in the prestigious Schools' Cup tournament, having previously reached the Final three times, winning twice.
Watch the coverage here:
The winning Oakham game begins at 5:12:00.
Congratulations boys!