Oakham Opinion: "Who exactly does the Oakham medical practice answer to?"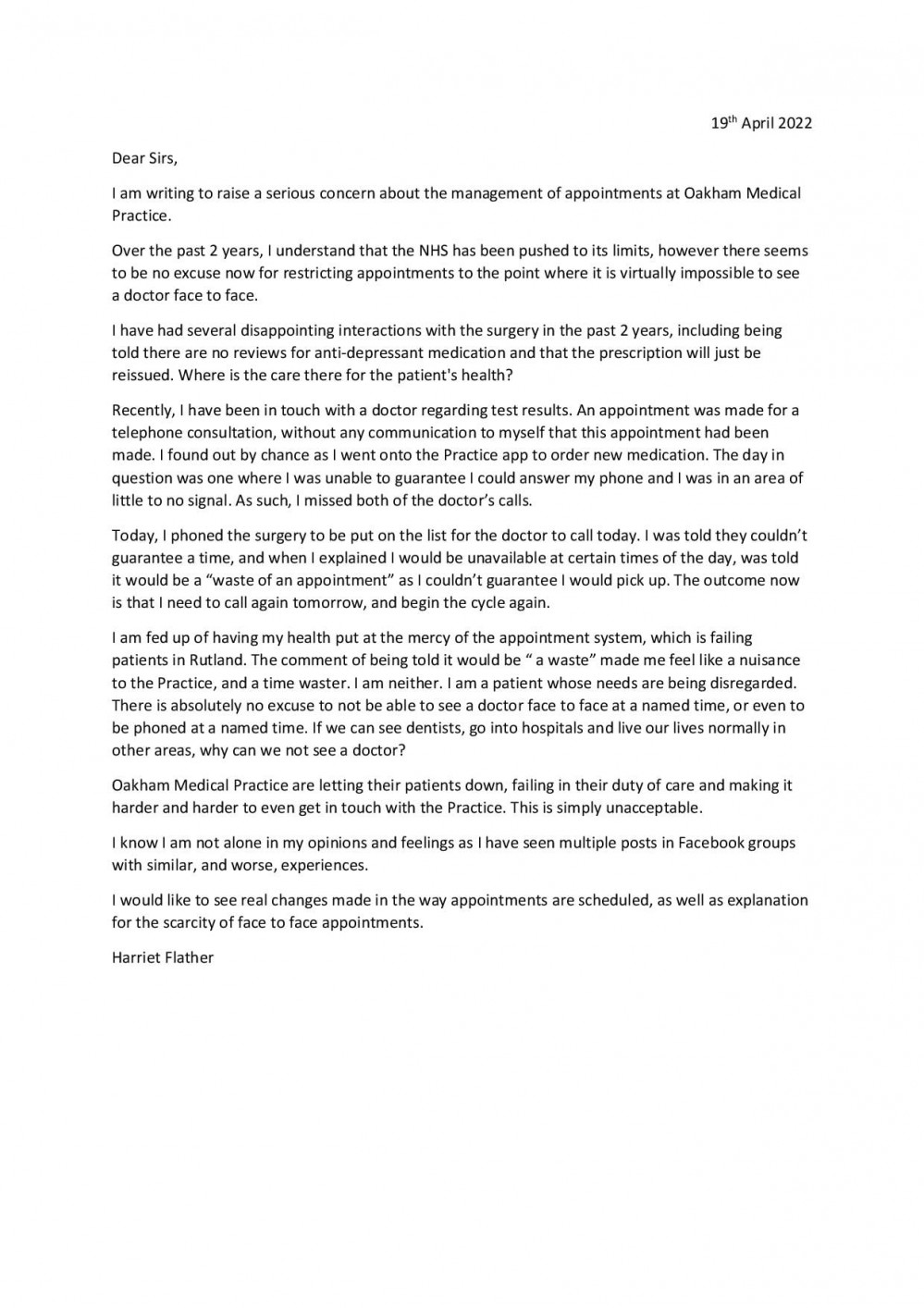 Harriet Flather's original letter to the practice (image courtesy of Harriet Flather)
There has been a tidal wave of support for Harriet Flather following her open letter to Oakham Medical Practice that was shared last week, the 21st of April 2022.
Harriet wrote expressing her frustration at the "failing" system that she deems "simply unacceptable".
One Oakham Nub News reader, Jill Harris, has responded.
"Dear Oakham Nub News,
"Please would you pass on my 100% support for the sentiments and understandable frustrations that Harriet Flather has expressed in her letter to the Oakham Medical Practice. Also my praise to Harriet for her writing this letter so eloquently and confidently at what, for her, must be a distressing time. She has certainly represented a lot of Oakham residents who are having difficulties with the appointments system in particular and the lack of empathy and common sense of the staff organising and answering calls.
"My daughter, in another part of the country, has a very different experience at her medical practice where her depression is treated with both regular face to face appointments and appropriately timed telephone calls. Echoing Harriet, this should be the norm everywhere.
"Who exactly does the Oakham Medical Practice answer to?
"Although I have not needed to make an appointment recently (touch wood), I am very conscious that every new house built in Oakham puts a further strain on the too small medical practice we have. Who is responsible for ensuring the local medical provision grows in response to the population growth?
"And the biggest question must be: How must the government address the crisis that has resulted in the UK having the worst provision for both primary and secondary care in Western Europe?
"Jill Harris"
Harriet's original letter can be viewed here.
Do you have any thoughts on this topic or any other local issues?
Equally, do you want to share something great about our local area?
Get in touch by emailing [email protected]
Similarly, you can share local events with us by clicking the 'Nub It' button at the top of the homepage.
We look forward to hearing from you.