Sunday concerts return to Cutts Close under new Oakham Mayor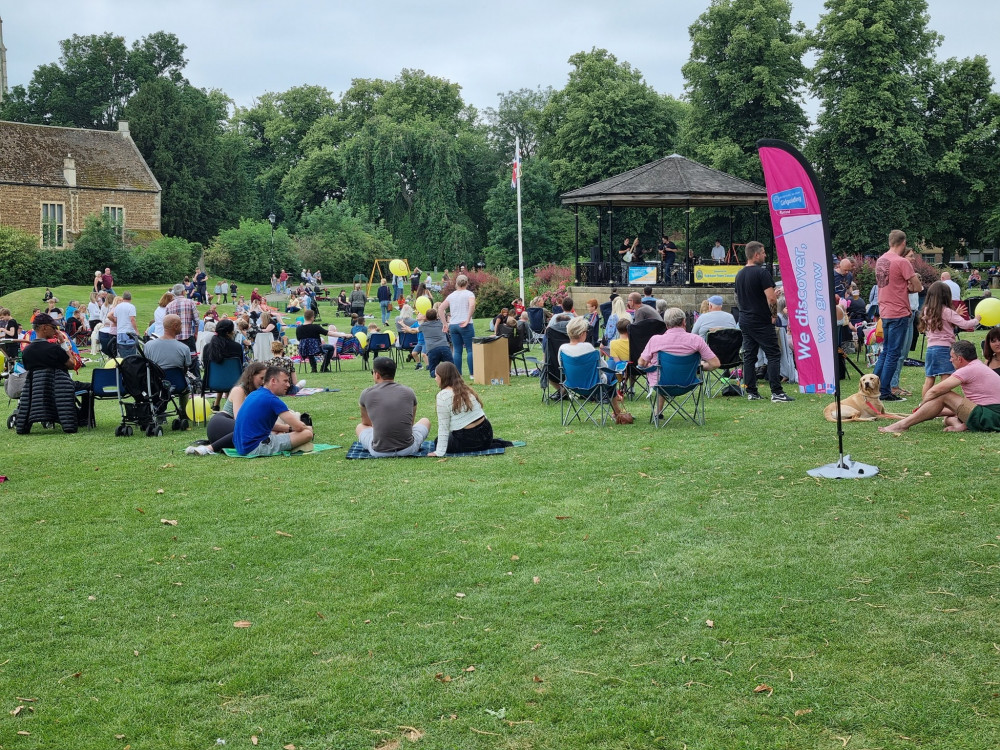 Residents and visitors enjoying music at Cutts Close in 2021 (image courtesy of OTC)
Sally-Anne Wadsworth, who was elected as Mayor of Oakham on the 18th of May 2022, was one of the Town Councillors behind the increasingly popular Sunday concerts in the park.
Now that her time in office has begun, she intends to reignite this popular community event so that locals can continue to enjoy music at Cutts Close every Sunday until the August Bank Holiday weekend.
This was supposed to begin on the Jubilee weekend, but the Great British weather rained the anticipated event off.
As such, the first Cutts Close concert of 2022 went ahead on the 12th of June, when Los Cojones played under the iconic Oakham bandstand.
The remaining list of dates and bands playing throughout the summer is as follows:
Sunday the 19th of June - Houndogs
Sunday the 26th of June - Leicestershire co op Band
Sunday the 3rd of July - Rutland Big Band
Sunday the 10th of July - Lord Lieutenant of Rutland's party in the park: The Blue Bird belles and Manky beds (12pm - 4.30pm)
Sunday the 17th of July - Uppingham Jazz and Soul Band
Sunday the 24th of July - Smokestack blues band
Sunday the 31st of July - Rutland Choral Society
Sunday the 7th of August - Freudian Slippers
Sunday the 14th of August - Hathern Band
Sunday the 21st of August - Zarakan Blues Band
All of these performances are scheduled to take place between 2:30pm and 4:30pm, unless stated otherwise.
On top of these performances, Saturday the 28th and Sunday the 29th of August will see a 2 day music event grace our popular local park.
Finally, on Sunday the 4th of September, a mass Church service will be held in the park where the community can come together, meet new people, and sing, catch up and make merry to round off a wonderful season of live music.
There are a range of other community events going on in Oakham over the coming months. See our What's On page to find out more.
Alternatively, click the link and hit the 'Nub It' button to share your own events with us here at Oakham Nub News.
We look forward to hearing about what else is going on locally!