Oakham: Anti-Bullying Week sees Oakham School pupils share kind words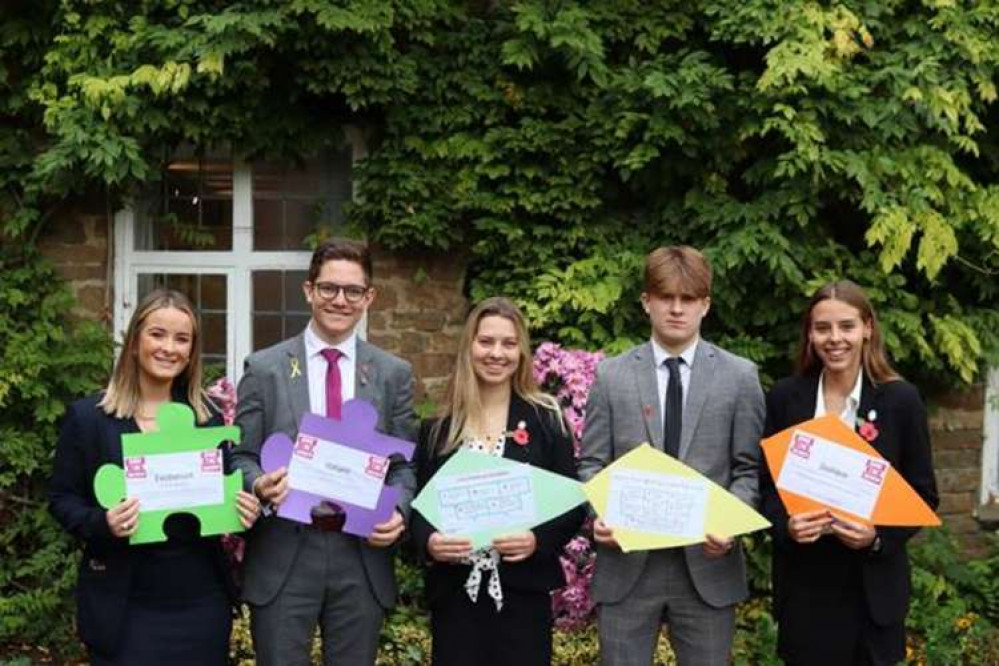 Oakham School pupils displaying their anti-bullying posters
Kind words have been shared across Oakham School in celebration of Anti-Bullying Week, which ran from the 15th to the 19th of November.
Oakham School have pledged to tackle bullying and create a truly inclusive School. A key part of this pledge saw pupils designing posters to promote and encourage the use of kind words to be displayed in the school corridors.
The kind words featured were chosen specially by the pupils and generate emotional and intellectual compliments rather than focusing on things such as people's physical appearances.
Run by the Anti-Bullying Alliance, Anti-Bullying week aims to spread kindness and break down barriers, brightening the lives of people around us. Due to the isolation of the last year, this initiative is arguably more important now than it has ever been.
The initiative is being led by form 7 pupil India. India said: "It has been a brilliant and rewarding experience to make these posters. The intention is that if these words are used by pupils, a positive knock-on effect will happen where even more kindness is spread across the School.
"Ever since Covid-19 and the periods we were in lockdown, kindness has never been more prevalent and important. Spreading kindness is one of the simplest things you can do. It has the ability to brighten up anyone's day, including your own.
"The positive and inclusive feel of Oakham School sets us up in this perfect position where we can celebrate Anti-Bullying Week as a whole community and each do our bit when it comes to spreading some extra positivity and kindness to our peers throughout the School. This week is a wonderful one to celebrate, not just in School but across all walks of life that we encounter each day."
Lower School pupils took part in a nomination activity called 'I've heard a whisper' which highlighted random acts of kindness and celebrated these across the School. Each child was nominated a fellow pupil who they've witnessed being kind recently. The best entries are being awarded a Cadbury's Wispa bar as a token of recognition.
Viv Lamb, Head of PSHE at Oakham School, said: "We want everyone who comes to Oakham, whether as a pupil, or a member of the teaching and support staff to feel part of our community. One way of generating that sense of belonging is through small acts of kindness all year round whether it is saying 'thank you' as we pick up our plates of food in the servery; holding a door open for someone; to saying thank you to drivers who stop to let us cross the road. Anti-Bullying Week this year gives us an opportunity to self-check whether we are being as kind as we could be.
"All our pupils and staff are aware that gratitude and kindness are key elements in supporting good mental health. Kindness is the one action that both participants can benefit from, whether you're being kind, or someone is being kind to you, you both feel better as a result.
"We hope the posters and the Lower School challenge will help us all to be kinder and as a result feel connected and happier - so important on these dark autumn days."
Tackling these issues in schools is the next step towards creating the change needed to promote an ethos of kindness and empathy for generations to come.
Oakham School is an independent day and boarding school for 10 to 18 year olds set in the heart of the town.
If you have your own stories to share, click the link to view our website and click the 'Nub It' button.