Oakham: Animal Rights group 'Shut Down T&S Rabbits' fight Lyndon Lane based rabbit farm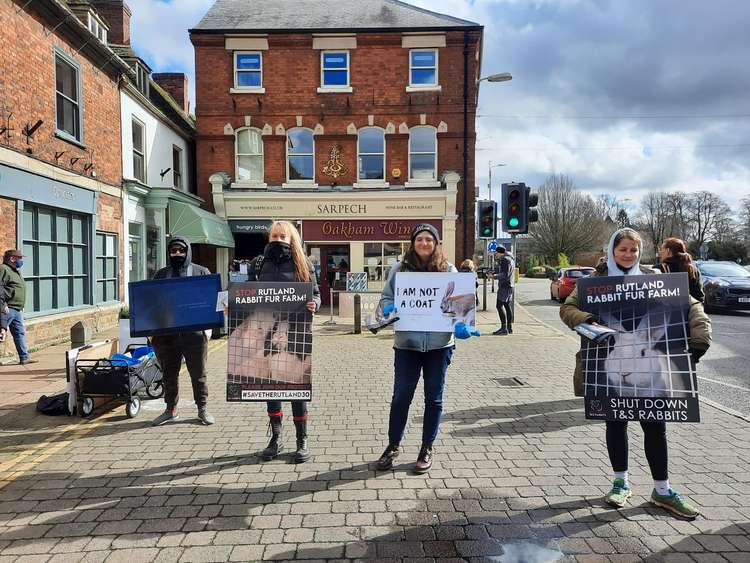 Shut Down T&S Rabbits protesting in Oakham hughstreet last week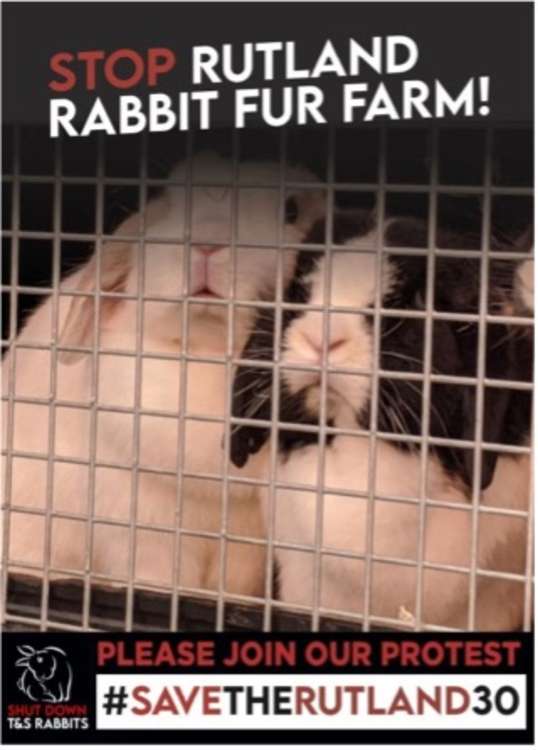 Shut Down T&S Rabbits' poster (image courtesy of Shut Down T&S Rabbits)
On Sunday the 20th of March, animal rights group Shut Down T&S Rabbits staged a demonstration on Lyndon Lane in an attempt to shut down the what they call "abhorrent" business of Phil Kerry. The protest ran from 11am and saw protestors handing out flyers and holding up banners for upwards of three hours.
Shut Down T&S Rabbits is a grassroots campaign group whose objectives are "to shut down Phil Kerry's abhorrent business, T&S Rabbits. To ensure all the imprisoned rabbits are released to good homes. To make certain that Phil ends his use of rabbits for profit and to deter any future rabbit breeders from setting up similar exploitative businesses."
The group have previously staged protests in Oakham Market Place, holding banners and handing out flyers to those interested.
Upon speaking to Oakham Nub News during one of these protests, they explained: "We have been to his farms and seen the conditions. One rabbit we saw had a head tilt and we found the burnt body of another. The rabbits can't stand at full height and they have no free access to the outside.
"There were even domestic breeds. Domestic rabbits are not considered good enough for meat purposes, leading us to conclude that Phil is breeding and murdering pet rabbits primarily for their fur.
"Phil loves a legal loophole and you can guarantee where there is one, Phil will utilise it for maximum profits. Fur farming has been outlawed in the UK since 2000... But fur can still be sold from rabbits primarily farmed for their meat as a "by-product."
"However, there is little way of knowing which rabbits are killed for their meat and which are killed specifically for their fur. This is fur farming by the back door. Phil is making a mockery of the UK fur ban; he sells fur products on his website for up to £600 each."
T&S Rabbits have not commented upon this, but their website states that they sell Silver Fox, Californian, Chinchilla, and "many more" breeds of rabbit.
Shut Down T&S Rabbits can be found on Facebook, where the public can also view videos of past protests, and find out more about upcoming events.
To keep in the loop, sign up for our Newsletter at the top of the website.